Our friendly and knowledgeable staff is dedicated to providing you with the most prompt and satisfactory service possible. Dallas PC Repair is committed to solving any technical issue your PC can have.
Common Issues
Hardware / Software Malfunctions
New Hardware Upgrades
System Back-ups
Formats
Virus and Spyware Removal
Basic Maintenance
Internet Trouble
Setup router firewall protection
Configure wireless security
Software problems, software hangs
Stop browser popups
Clean up spam, malware and viruses
Hardware errors
System won't boot
System takes 5 minutes to load
Copy files to backup
Setup automatic backup
Restore files from backup
Burn files to CD or DVD
Answer "How to" or "How do I.." questions.
We service all major brands and no name clones as well. If you have a Compaq, HP, Dell, Toshiba, Fujitsu, IBM, Lenovo, Quanta we have got you covered. It is important to have someone who knows the parts you will need and how to get the job done.
Steps to regain your sanity:
Call us at 972-418-2000
Connect over the internet (via Remote Support) or bring computer in
We repair your PC
Get back to work
If you prefer to bring your PC in, our lab location is conveniently located in Carrollton and easily reached from Dallas, Frisco, Plano, The Colony, Lewisville, Coppell, Irving etc..
Call 972-418-2000
2121 N Josey Ln #102
Carrollton, TX 75006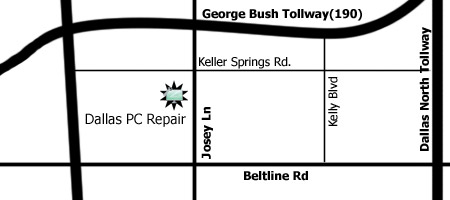 Our Clients Say..
"You are better than you have to be."
"We wish we learned about you sooner and called you sooner."
"We had that problem for a month."
"The geeks came out but we still had problems."
"This is so much better, Thanks!"